Need a bar for on the go but not something sweet? Us too!
We created this savory healthy snack to fill you up quickly and keep you going. Made with just 6 simple ingredients, Bear Bars are low-temperature dried at 155 degrees F, to keep nutrients intact. Take them hiking. Sneak them into the movies. Pack them for travel. Just don't feed the bears!
SHOP NOW
RED BELL PEPPER
CASHEW
KALE
CHIA SEEDS & SEA SALT
LEMON JUICE
"I take this bar hiking and it is the right snack to keep me going. I love that it is low in sugar and high in protein."
"This bar is surprisingly delicious. I love the savory flavors, especially the salty kale flavor."
"I think this bar is perfect for my post yoga recovery. Sweet bars are gross and they are everywhere. This bar is a better choice."
"It's fresh and crunchy tasting. I have a hard time finding savory bars that I enjoy. This bar is great!"
"I have a lot of allergies so this bar is perfect for me and my sensitivities. The simple ingredients blend so nicely together and are filling."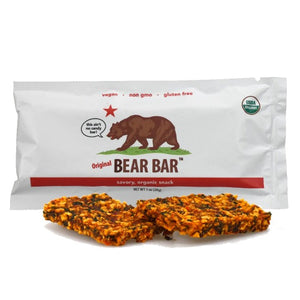 BEAR BAR, ORGANIC, ORIGINAL 1 OZ - CASE OF 12
Sale price Price $29.99 Regular price
Let's be friends!
Follow us on Instagram @eatabearbar for updates, product launches and other adventures!